A Comprehensive CCTV Repairs and Installation Service for London and Essex
CCTV technology has to keep a step ahead of the increasingly advanced methods being used by criminals. The CCTV team here at Camden Aerials and Satellites are up-to-date with all the latest CCTV technology, and are ready to share their skills and experience to help you protect the property, possessions and people you hold dearest.
CCTV Installer Camden & London
Living and working in Essex or London, you'll be well aware of crime rates and the need to use evermore advanced ways to protect property. CCTV is becoming the go-to way for many homeowners and businesses to protect what's theirs. And here at Camden Aerials and Satellites, we are experts in installing CCTV systems as well as repairing and upgrading them.
Arrange a free consultation
Call the Camden Aerials and Satellites CCTV team and we will arrange a visit to your home or work premises during which we will assess your current security provision and recommend the best solutions using the latest CCTV technology. Of course, you may already have a good idea of exactly the kind of CCTV security solution you're looking for, in which case we will be happy to supply and fit the technology.
It all starts with your call, during which we'll arrange to visit your place to provide a free consultation. It's during this visit that we'll recommend the best kit and the best places to put it in order to give you the peace of mind you're looking for. It could be as simple as a camera hidden in your porch, or several security devices dotted around your property. It's all about protecting the most vulnerable areas, and giving you the means to watch over your place while you're not there.
Experienced at all kinds of CCTV installations and repairs – including Motion Detection and Remote Monitoring
With criminals using evermore advanced means of breaking the law, thankfully CCTV is becoming more and more advanced, acting as a deterrent or catching them red-handed.
Call us to discuss the range of CCTV options we can bring to your home or workplace. Motion Detection systems automatically register and record and suspicious movements in specified areas either inside or outside your property. And internet-based wireless and IP security cameras let you see what your cameras see via your chosen device – that could be your mobile, tablet, laptop or desktop computer. We can also supply, install and repair night vision and day cameras. Call us on 0800 012 6487 for a free consultation.
Reasons to call the Camden Aerials and Satellites CCTV Installation Team
You can trust us – and that's vital with something as important as CCTV. Our team has experience of fitting all kinds of CCTV cameras in all kinds of places and can be relied upon for professionalism and discretion.
Surveys are free – call us and we will arrange to visit your premises and carry out a thorough survey of your security situation free of charge.
Unbiased advice from independent CCTV experts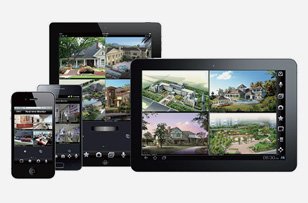 Any CCTV solutions we offer will be the best brands for the job, because we pride ourselves on offering unbiased opinions and advice.
Great customer service
The entire Camden Aerials and Satellites CCTV team takes being polite and professional as seriously as we take our job of helping you protect your home or workplace.
The best CCTV solutions for the best price
That's always our aim here at Camden Aerials and Satellites. So why not use us when you're thinking about upgrading your current CCTV system, or installing a new one, or when you need CCTV repairs.
We take your safety and security seriously. For a free CCTV consultation, call Camden Aerials and Satellites on 0800 012 6487.